The University
Founded in 1841, Queen's is one of Canada's leading universities with an international reputation for the outstanding academic quality of its students and faculty. We were recently voted #1 one in Canada among international undergraduate students in the International Student Barometer. Queen's University takes an inclusive approach and offers learning beyond the classroom; this experience includes the most clubs per capita of any Canadian University as well as a robust international exchange program with more than 220 partners.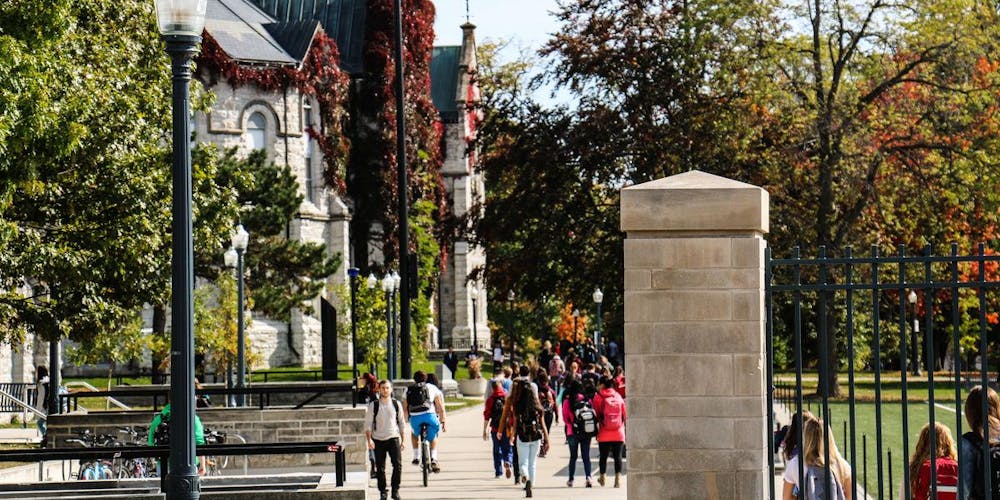 Queen's research-intensive environment and interdisciplinary program offerings provide students with the comprehensive and nimble skills required in today's competitive and evolving workforce with 91% of Queen's grads employed within six months after graduation.
Bolstered by the outstanding reputations of its scholars and researchers — including 2015 Nobel Prize winner Arthur B. McDonald — a Queen's education can provide unparalleled access to careers and personal development opportunities around the world.
Home to more than 24,000 students, Queen's boasts an undergraduate graduation rate of 93%, diverse learning opportunities, a broad range of students services and supports, unmistakable school spirit, and a tight-knit global network of 159,000 alumni in 153 countries. Ultimately, to attend Queen's University is to join an international community of lifelong learners and accomplished leaders.
On-Campus Facilities
The campus has a fully integrated network of six libraries and is home to several outstanding museums and arts facilities, including the Agnes Etherington Art Centre and The Isabel Bader Centre for the Performing Arts. This vast campus also encompasses the Campus Bookstore, information technology services (ITS), Student Health Services, a hair salon, various cafeterias, as well as an assortment of places to meet and relax with friends such as pubs and cafés. Recently, students and staff now have access to the Queen's Centre, a modern, multi-purpose complex in the heart of campus which includes an aquatic centre, gymnasiums, a huge cardio and weight area, dance studios, squash and racquetball courts, as well as extensive student-life space. The Queen's Centre integrates academics, sports and recreation, student and community activities.
Queen's campus has three major components (main, west and the Isabel campus) within a 1.5 km radius. Kingston General Hospital and the other Queen's-affiliated hospitals, research labs and offices are located nearby and across the city.
The City: Kingston, Ontario
Rated one of the 5 great university towns in the world by the BBC, Kingston is a charming mid-sized city of some 120,000 people that combines the cultural, social and artistic benefits of a larger city with the tranquility and intimacy of a small town.
The city is scenically located in the beautiful Thousand Islands region of Eastern Ontario, where Lake Ontario empties into the majestic St Lawrence River, and is conveniently located within three hours of Toronto, Montreal and Ottawa by road or rail, and is only half an hour from the US border. Kingston is also accessible via air, with flights arriving and departing from the Norman Rogers airport.
Home to Canada's first prime minister, Kingston's rich history is alive in beautiful 19th century limestone architecture and over 20 museums and national historic sites.
The city also boasts a large number of restaurants, with over 100 in a 9 block radius downtown. There are lots of different cuisines on offer, and the eateries are close to live entertainment venues including the K-Rock Centre (home of the Kingston Frontenacs hockey team), Confederation Park, and Market Square, which regularly see live music, sports, and cultural events throughout the year. Annual events include Chili Fest, Movies in the Square, Limestone City Blues Festival, Feb Fest, Music in the Park, and much, much more.
---
Information provided by Queen's University.